Workshops
Present a workshop
The Workshop Proposal Form is now closed. Please consider presenting a workshop next year.

Click here for workshop details
Questions about workshops? Please contact Workshop Coordinators Anastasia Arriaga and Amanda Measer at [email protected]
Trouble logging in or need other help? Please see our CONTACT US page.
Registration
Online registration is now closed. Registration will be available on site.
Payment and Cancellation Policy
Membership
Members receive a reduced rate on conference registration.
Join or Renew Membership NOW!

Click Here for membership rates.
Rates
Registration includes daily continental breakfast.
Early Bird deadline November 1, SAVE $30!
Member Registration: $179 (Early Bird $149)
Student/Retired/Unemployed Member Registration: $140 (Early Bird $110)
Non-Member Registration: $255 (Early Bird $225)
Full Meal Package (Save $10) $188
Friday Lunch $25
Friday Plated Dinner $50
Saturday Lunch $25
Saturday Reception and Dinner $60
(includes reception with hors d'oeuvres)
Sunday Brunch $38
All meal pricing includes a 22% gratuity charge mandated by the hotel.
Hotel Information
Deadline for Early Bird Registration and Conference Room Rate is November 1

Double Tree by Hilton
25 Water Street, Binghamton, NY 13901
(607/722-7575
Conference Hotel Rate:
Room rate is $129 single or double occupancy room, student room rate $119. (Guaranteed prior to 11/1 ONLY).

You must contact the hotel directly to reserve your room.
To book your room online:
www.binghamton.doubletree.com
Group Code is ART
Conference dates are November 17-19, 2017.
The hotel will NOT assign roommates.
The hotel will accept Purchase Orders as payment for lodging. You must provide your own tax exempt form.
The Double Tree Hotel is sold out on Friday Nov. 17. NYSATA has contracted for rooms at the same conference rate with the Holiday Inn just down the street. The code to get the same room rate is ATA. Call 607-722-1212.
CTLE Credit
NYSATA is an approved CTLE sponsor.

Attendees will be notified prior to the conference of the exact process for documenting CTLE hours.
Please check with your district for any prior approval necessary.
Commercial & College Exhibitors
Our Commercial Exhibitors/College Showcase area typically features over 40 exhibitors. We welcome commercial, college, and non-profit exhibitors whose products and services are targeted to art educators. For maximum exposure, be sure to check out our Sponsorship Opportunities. Exhibitors are encouraged to conduct workshops to increase their contact with conference attendees.
Reserve Exhibitor Space NOW! Register for a  booth or table
2017 Exhibitors Prospectus.pdf
2017 Sponsorship Prospectus.pdf
Give your business or organization maximum exposure with exclusive sponsorship opportunities!
Top 10 Reasons to Participate as an Exhibitor at the NYSATA Annual Conference
2017 Conference Workshop Proposal
The deadline for submitting workshops has passed.
Questions about workshops? Please contact Workshop Coordinators Anastasia Arriaga and Amanda Measer at [email protected]
Before you Arrive
COMING SOON Important Information Before You Arrive
Support Letter
Make a case for your attendance with a letter that highlights the value of this professional development opportunity
COMING SOON Click Here
for complete conference information and schedule from the 2017 Conference Edition of the NYSATA News.
Frequently Asked Questions
COMING SOON!
A Conversation with the Conference Coordinators

2017 Conference
Join us for the NYSATA 69th Annual Conference, November 17-19, 2017 at the Doubletree Hotel Binghamton, 225 Water Street, Binghamton, NY 13901. This two-and-a half day conference is packed with over 100 workshops, a commercial and college exhibitor showcase, as well as Keynote addresses by renown artists and educators.
Conference Workshops
Workshops are plentiful and include hands on workshops, product demonstrations, lecture workshops, and round-table discussions on a variety of current interest topics. Approximately 100 workshops are available at no additional cost to participants.  Paid workshops are also available. Participants may register for paid workshops along with regular conference registration, online, or on-site if spaces are still available. 
Click here for details and paid workshop info

Keynote Speakers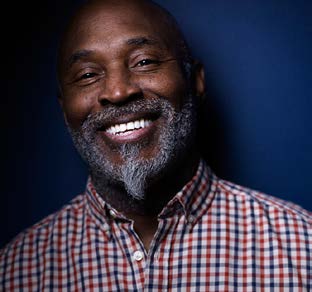 Sculptor, Dancer, and Performance Artist: Nick Cave
Nick Cave is an American fabric sculptor, dancer, and performance artist. He is best known for his Soundsuits: wearable fabric sculptures that are bright, whimsical, and other-worldly. He also trained as a dancer with Alvin Ailey. He resides in Chicago and is director of the graduate fashion program at School of the Art Institute of Chicago. Nick Cave attended the Cranbrook Academy of Art (MFA, 1989), North Texas State University (1984-86), and the Kansas City Art Institute (BFA, 1982). Cave's awards and residencies include the Joan Mitchell Foundation Award (2008), Artadia Award (2006), Joyce Award (2006), Creative Capital Grant (2004, 2002), and a Louis Comfort Tiffany Foundation Award (2001). Cave has had major exhibitions at MASS MoCA (2016); Cranbrook Art Museum (2015); Saint Louis Art Museum (2014-15); ICA Boston (2014); Denver Art Museum (2013); Fabric Workshop and Museum (2011-12); Seattle Art Museum (2011); and the Yerba Buena Center for the Arts (2009), among others.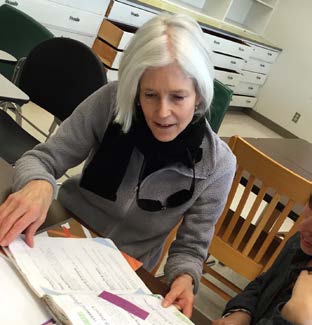 Professor of Art Education: Dr. Julia Marshall
Julia Marshall is Professor of Art Education at San Francisco State University where she oversees the art education program and teaches undergraduate and credential courses. Julia is also the Design and Development Consultant to the Alameda County Office ofEducation (ACOE), for which she guides curriculum and instruction in the IntegratedLearning Specialist Program (ILSP), a professional development certification program in arts integration and culturally responsive pedagogy for classroom teachers, teaching artists and school administrators. She also serves on the Advisory Board of the Arts Education Master Plan for the San Francisco School District. In that capacity, she leads professional development workshops in arts integration, contemporary art and curriculum development for art teachers and generalists in San Francisco schools.
Artist/Art Educator/Author: Rachel Branham
Rachel Branham is an artist educator living in northeastern Massachusetts. She holds aMasters of Arts Education from the Rhode Island School of Design and a Bachelor of
Arts Education from the Ohio State University. She published her first graphic novel in 2016, "What's So Great About Art, Anyway?" A Teacher's Odyssey, which has been nominated for a Forward INDIES award in Education. She has also written and illustrated many short comics and zines, and the children's book, The Sock Book. Ms. Branham is most interested in art making as a tool for self-expression and social justice, and believes that project-based, individualized and holistic education is a human right for all young people. In addition, Ms. Branham is also going to be conducting a workshop on using comic books to inspire art.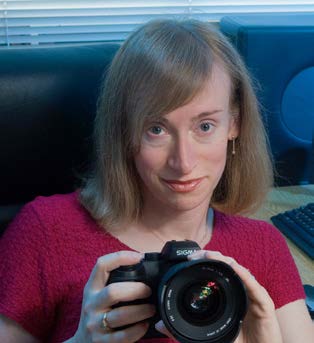 Scientist/Inventor/Professor/Photographer:
Dr. Jessica Fridrich
Dr. Fridrich is a professor at Binghamton University in the Department of Electrical and Computer Engineering who specializes in data hiding applications in digital imagery,
watermarking, and forensics. She received her MS degree in applied mathematics from the Czech Technical University in Prague in 1987, and her PhD in systems science from Binghamton University in 1995. Jessica Fridrich was born in Ostrava in the Czech Republic in 1964. She came to the US in 1990 to study at Binghamton University and stayed in Binghamton, NY ever since. She is also known for documenting and popularizing the CFOP method, one of the most commonly used methods for speedsolving the Rubik's Cube, also known as speedcubing.
Commercial Exhibitors Showcase

Over 50 vendors and college information tables are available. Browse new products, pick up free samples, obtain college information for your students, and see demonstrations. Many vendors also add their expertise to the conference by presenting workshops.
Saturday Night President's Dinner and Reception
NYSATA will host the President's Dinner and Reception on Saturday evening. This
evening of celebration is to honor the State Art Educator of the Year, all other awardees, and our presenters. The opening reception will feature a cash bar with hot and cold hors
d'oeuvres. A full buffet dinner will follow. Immediately after dinner and the awards presentation there will be dancing to a DJ.
10X10 Art Connects Community Member Exhibit!
We are trying a new format for the Members Exhibit this year. In the spirit of Art Connecting Community, the theme of this year's conference, we invite all those attending
the conference to participate in a special Member's Exhibit. This will be in place of the traditional Member's Exhibit. We are asking members who will be attending the conference to submit artwork that will be sold to benefit the NYSATA Scholarship Fund.
Click Here for details (COMING SOON!).
Student Art Exhibit
This exhibit is free, but it is necessary to preregister to reserve a space. All preregistration will take place ONLINE ONLY through the NYSATA website. Preregistration for this exhibit is by individual teacher, not by school or district. Participating teachers must be NYSATA members.
Presentation of Awards and Honors
Friday Dinner: Special Citation Award-Business, Student Scholarship Winners
Saturday Dinner: Outstanding Service Award(s), NYS Art Educator of the Year
Sunday Brunch: Regional Art Educator of the Year Awards
Go to Awards and Honors Page to see Award Winners 
Go to Student Scholarships Page to see Scholarship Winners
Artisans Market
NYSATA members can take advantage of this unique opportunity to show and sell your art and crafts at the Artisans Market from 3:00-5:00 PM on Saturday, November 19. Reserve your table now, space is limited. Table space fee is $25. Artisans are responsible for set up, collecting all sales money and taxes, an dismantling tables.
Silent Auction
Help support the Student Scholarship Fund. Donated items are displayed at the annual NYSATA conference, and conference attendees are invited to bid. Many happy people left last year's conference with treasures from the silent auction! Please consider bringing an item to the conference to donate to this worthy cause.
NYSATA thanks Blick
our 2017 Platinum Conference Sponsor