Workshops
Present a workshop
Workshop Proposal deadline was April 15, 2018.
Questions about workshops? Please contact Workshop Coordinators Anastasia Arriaga and Amanda Measer at [email protected]
Trouble logging in or need other help? Please see our CONTACT US page.
Registration
ONLINE REGISTRATION IS NOW CLOSED
Register onsite upon arrival
School Purchase Orders: You must register. If your school is paying with a PO you should REGISTER FIRST and choose the BILL ME option for payment. Send the printable registration confirmation to your school business office to include with the PO. Mail or bring your PO with you to the conference.
Payment and Cancellation Policy
Membership
Members receive a reduced rate on conference registration.
Join or Renew Membership NOW!

Click Here for membership rates.
Rates
Registration includes daily continental breakfast.
Early Bird deadline November 1, SAVE $30!
Member Registration: $179 (Early Bird $149)
Student/Retired/Unemployed Member Registration: $140 (Early Bird $110)
Non-Member Registration: $255 (Early Bird $225)
Full Meal Package (Save $10) $188
Friday Lunch $25
Friday Buffet Dinner $50
Saturday Lunch $25
Saturday Plated Dinner $60
(includes reception with hors d'oeuvres)
Sunday Brunch $38
All meal pricing includes a 22% gratuity charge mandated by the hotel.
Special Thursday Bus Pass to Museums
Coming to Buffalo on Thursday? Jump on the bus!
We have room on the bus for anyone wishing to go to either Albright Knox Art Gallery or Burchfield Penny Center on Thursday afternoon. These two institutions are across the street from each other. Bus departs at 1:00 PM and returns to the hotel at 4:15. Cost of the bus ticket is $5. Print your receipt and bring it with you--it is your ticket to get on the bus.

Reserve NOW! deadline Monday November 12

Hotel Information
Deadline for Early Bird Registration and Conference Room Rate is November 1

Adams Mark hotel
120 Church Street, Buffalo, N
Conference Hotel Rate:
$129 (Rates guaranteed prior to 11/1 ONLY).

You must contact the hotel directly to reserve your room.

Reservations: 716-845-5100
(request the group rate for New York State Art Teachers Association--use the full name of the Association, do not abbreviate to NYSATA)

Conference dates are November 16-18, 2018.
The hotel will NOT assign roommates.
The hotel will accept Purchase Orders as payment for lodging. You must provide your own tax exempt form.
CTLE Credit
NYSATA is an approved CTLE sponsor.

Attendees will be provided with a tracking sheet to document their CTLE hours.
CTLE certification can be obtained after the conference by inputting the CTLE tracking information in our CTLE Certification Form
See the 2018 Conference CTLE Credit Page for more information.
Please check with your district for any prior approval necessary.
Commercial & College Exhibitors
Our Commercial Exhibitors/College Showcase features over 40 exhibitors. We welcome commercial, college, and non-profit exhibitors whose products and services are targeted to art educators. For maximum exposure, be sure to check out our Sponsorship Opportunities. Exhibitors are encouraged to conduct workshops to increase their contact with conference attendees.
Reserve Exhibitor Space NOW! Register for a  booth or table
2018 Exhibitors Prospectus
2018 Sponsorship Prospectus
Give your business or organization maximum exposure with exclusive sponsorship opportunities!
NEW THIS YEAR! 2018 Whoava Conference App Banner Ads
Top 10 Reasons to Participate as an Exhibitor at the NYSATA Annual Conference
2018 Conference Workshop Proposal
The workshop proposal form is now closed. Proposal deadline was April 15, 2018.
Questions about workshops? Please contact Workshop Coordinators Anastasia Arriaga and Amanda Measer at [email protected]
Before you Arrive
Get our official event app
For Blackberry or Windows Phone,
Click here

Powered by
Whova

COMING SOON Important Information Before You Arrive
Support Letter
Make a case for your attendance with a letter that highlights the value of this professional development opportunity
Click here 
for complete conference information and schedule from the 2018 Conference Edition of the NYSATA News.
A Conversation with the Conference Coordinators
2018 Conference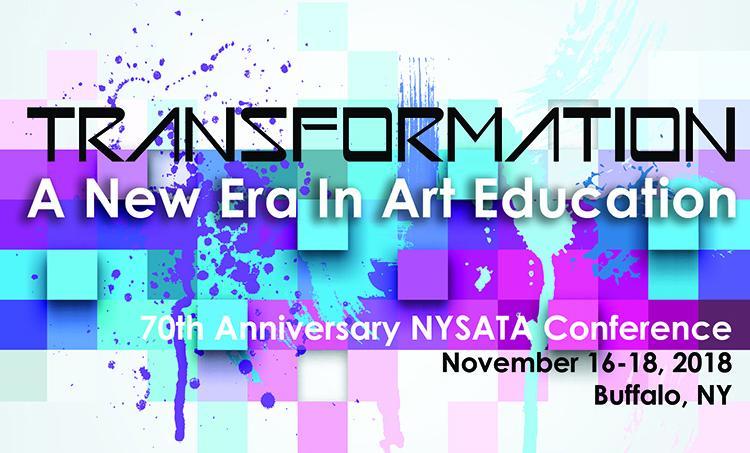 Join us for the NYSATA 70th Anniversary Conference, November 16-18, 2018 at the Adams Mark Hotel, 120 Church Street, Buffalo, NY. This two-and-a half day conference is packed with over 100 workshops, a commercial and college exhibitor showcase, as well as Keynote addresses by renown artists and educators.
Conference Workshops
Workshops are plentiful and include hands on workshops, product demonstrations, lecture workshops, and round-table discussions on a variety of current interest topics. Approximately 100 workshops are available at no additional cost to participants. Paid workshops are also available. Participants may register for paid workshops along with regular conference registration, online, or on-site if spaces are still available. 
Click here for details and paid workshop info

Keynote Speakers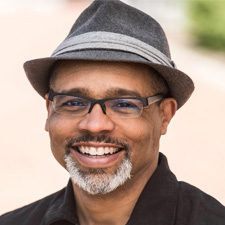 Dr. B. Stephen Carpenter II is Professor of Art Education and African American Studies; Co-Director of the Summer Institute on Contemporary Art (SICA); Chief Executive Artist for Reservoir Studio; and Interim Director of the Penn State School of Visual Arts (effective August 1, 2018). He is also a Founding Faculty member of the summer residency MAT/MA in Art & Design Education Program at Vermont College of
Fine Arts.
Steve is a National Art Education Association (NAEA) Distinguished Fellow and current Senior Editor of Studies in Art Education (2017-2019). Steve served previously as co-editor of the Journal of Curriculum and Pedagogy (2010-2013); and editor of Art Education (2004-2006). He is also a member of the international editorial board of Curriculum Inquiry. Steve's research explores professional development for preK-12 educators, public pedagogy, participatory art practices, critical art education studies, and the global water crisis as curriculum. His mixed-media and performance artworks confront and disrupt social, historical, cultural, and political constructs. He is co-author of Interdisciplinary Approaches to Teaching Art in High School (2006), co-editor of Curriculum for a Progressive, Provocative, Poetic, and Public Pedagogy (2006), Professional Development in Art Museums: Strategies of Engagement Through Contemporary Art (2018), and The Palgrave Handbook of Race and the Arts in Education (2018).
Steve holds a B.F.A. degree in Visual Art from Slippery Rock University (1987) and M.Ed (1989) and Ph.D. (1996) degrees in Art Education from The Pennsylvania State University.
Mark Dion was born in 1961 in New Bedford,
Massachusetts. He initially studied in 1981-2 at the Hartford Art School of the University of Hartford in Connecticut, which awarded him a BFA (1986) and honorary doctorate in 2002.
From 1983 to 1984 he attended the School of Visual Arts in New York and then the prestigious Whitney Museum of American Art's Independent Study Program (1984-1985). He is an Honorary Fellow of Falmouth University in the UK (2014), and has an Honorary Doctor of Humane Letters (Ph.D.) from The Wagner Free Institute of Science in Philadelphia (2015).
Dion's work examines the ways in which dominant ideologies and public institutions shape our understanding of history, knowledge, and the natural world. The job of the
artist, he says, is to go against the grain of dominant culture, to challenge perception and convention. Appropriating archaeological, field ecology and other scientific methods of collecting, ordering, and exhibiting objects, Dion creates works that question the distinctions between 'objective' ('rational') scientific methods and 'subjective' ('irrational')
influences. The artist's spectacular and often fantastical curiosity cabinets, modeled on Wunderkammen of the 16th and 17th Century, exalt atypical orderings of objects and specimens. Dion also frequently collaborates with museums of natural history, aquariums, zoos and other institutions mandated to produce public knowledge on the topic of nature. By locating the roots of environmental politics and public policy in the construction of knowledge about nature, Mark Dion questions the objectivity and authoritative role of the scientific voice in contemporary society, tracking how pseudo-science, social agendas and ideology creep into public discourse and knowledge production.
Dion has received numerous awards, including the ninth annual Larry Aldrich Foundation Award (2001), The Joan Mitchell Foundation Award (2007), and the Smithsonian American Art Museum's Lucida Art Award (2008). He has had major exhibitions at the Miami Art Museum (2006); Museum of Modern Art, New York (2004); Aldrich Museum of
Contemporary Art, Ridgefield, Connecticut (2003); Tate Gallery, London (1999), and the British Museum of Natural History in London (2007). "Neukom Vivarium" (2006), a permanent outdoor installation and learning lab for the Olympic Sculpture Park, was commissioned by the Seattle Art Museum. Dion produced a major permanent commission, 'OCEANOMANIA: Souvenirs of Mysterious Seas' for the Oceanographic
Museum in Monaco. In 2016 Dion and his curatorial collaborator Sarina Basta produced the large scale exhibition, ExtraNaturel: Voyage initiatique dans la collection des Beaux Arts de Paris, at the Palais des Beaux-Arts in Paris.
Mark Dion is co-director of Mildred's Lane an innovative visual art education and residency program in Beach Lake, Pennsylvania. For over two decades Dion has worked in the public realm in a wide range of scales, from architecture projects to print interventions in newspapers. Some of his most recent large scale public project include "The Amateur Ornithologist Clubhouse" a Captain Nemo-like interior constructed in a vast gas tank in Essen, Germany, and "Den" a large scale folly in Norway's mountainous landscape which feature a massive sculpture of a sleeping bear in a cave, resting on a hill of material culture form the neolithic to the present. Dion has also produced large scale
permanent commissions for Documenta 13 in Kassel, Germany, the Montevideo Biannale in Uruguay, The Rose Art Museum, Johns Hopkins University Stavoren, Holland and the Port of Los Angeles. In October 2017, The Institute of Contemporary Art, Boston hosted
"Mark Dion: Misadventures of a Twenty-First Century Naturalist", the largest American survey to date of the artist's work. In February 2018 the survey exhibition "Mark Dion: Theatre of the Natural World", was presented at The Whitechapel Gallery in London.
Dion lives with his wife and frequent collaborator Dana Sherwood Landfill, 1999-2000, Mixed Media in New York City and works worldwide.
J
ulia Douglas is a Buffalo-based artist who creates realistic and recognizable representations, using portraiture to give a glimpse of people of color as sensitive, sincere, and multi-faceted—characteristics that the artist feels are often missing in
mainstream portrayals. Douglas has previously focused on depictions of men in part because she feels there is a "certain level of expressive privilege often denied to men by our culture." This situation allows her the freedom to explore and deviate from notions of accepted, but deeply flawed, racial stereotypes and distorted gender roles. Recently her work has slightly expanded to encompass aspects of character in general. Douglas has exhibited regionally, including the Buffalo Arts Studio exhibition "Tinted: A Visual Statement on Color, Identity, and Representation" (April 28–June 2, 2017). Douglas is the inaugural artist for the Open Buffalo Emerging Artist Series. She is one of four local artists to create the Freedom Wall, an 11 x 300 foot mural that serves as the entrance to the Michigan Street African American Heritage Corridor in Buffalo. Ms. Douglas is a graduate of The State University College at Buffalo and holds a BS in Art, Post baccalaureate Certification in Art Education and a MA in Multidisciplinary Fine Art Studies. Douglas has been featured in numerous art publications in the Buffalo area. She is the recipient of the 2018 Sarah G. Metzger Human Rights Award, William Wells Brown Award, and the 2016 Buffalo State College GSA Fine Art Grant. She was elected to the board of Directors at Hallwalls Contemporary Arts Center in 2017.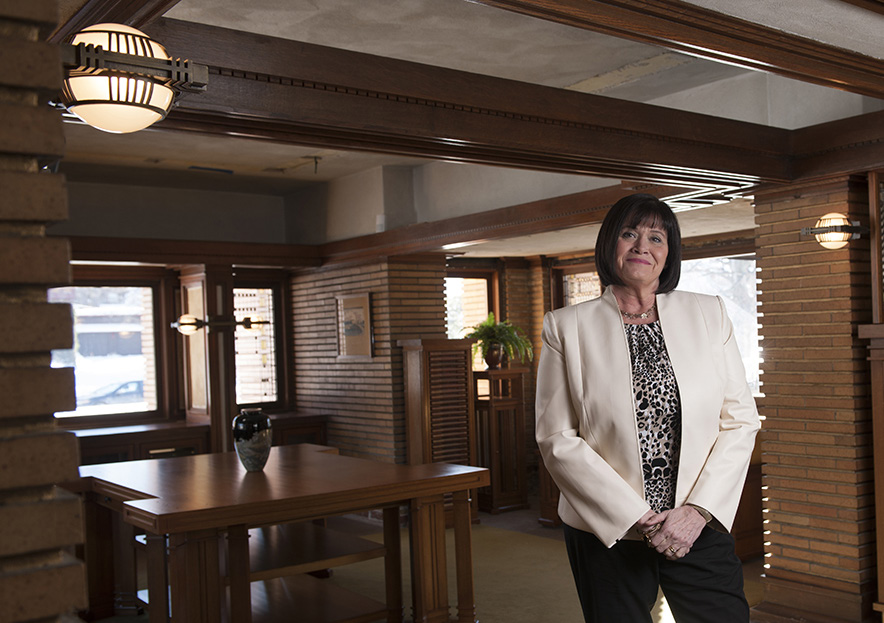 Mary Roberts is executive director of the Martin House Restoration Corporation, an organization that is dedicated to restoring, preserving and interpreting Frank Lloyd Wright's greatest early-career residential work—the Darwin D. Martin House, a National Historic Landmark and New York State Historic site. The Martin estate is complex of six prairie-style buildings that occupies a 1.5 acre site in the historic Parkside neighborhood in Buffalo, New York.
Built in 1903-06, the estate is a one-of-a-kind composition consisting of the main Martin House, the secondary Barton House, a carriage house with chauffeur's quarters and stables, a glass-roofed conservatory linked to the main house by a 100-foot pergola, and a gardener's cottage. The buildings, surrounding landscape, extensive art glass, furnishings and decorative elements were all designed by Wright as an integrated, organic work of genius. Nearing completion of a comprehensive multiyear $50 million dollar restoration effort, the Martin House is widely viewed as a model of excellence in historic preservation and sustainable economic development. The project serves as a lynchpin for architectural tourism in a city of American architectural masterpieces. Ms. Roberts leads a dedicated board, staff and 400 active volunteers in service to Wright's organic principals and the continuing dialogue on the importance of architecture and design in contemporary lives.
Commercial Exhibitors Showcase
Over 50 vendors and college information tables are available. Browse new products, pick up free samples, obtain college information for your students, and see demonstrations. Many vendors also add their expertise to the conference by presenting workshops.
Saturday Night President's Dinner and Reception
NYSATA will host the President's Dinner and Reception on Saturday evening. This
evening of celebration is to honor the State Art Educator of the Year, all other awardees, and our presenters. The opening reception will feature a cash bar with hot and cold hors d'oeuvres. A plated dinner will follow, with choice of Stuffed Chicken breast, Filet Mignon, or crusted baked halibut. A vegetarian option will also be available. Immediately after dinner and the awards presentation there will be dancing to Buffalo DJ- Kevin Lauck.
Member Exhibit!
NYSATA invites its members to participate in the 2018 Member's Exhibit. Once again, we will hold a 10x10 format exhibit. This work will be sold to benefit the NYSATA Scholarship Fund.
Modeled after regional 6"x6" Exhibits around the state, all 2D entries must be 10"x10" unframed/unmatted works of art. 3D entries must be 10"x10"x10". Unframed, stretched canvas is permitted. These smaller, easier to transport           works of art should facilitate greater participation.
The work will be hung anonymously (artists are asked to sign the back or we will cover the signature with a post-it).
There will be no fee to participate and all conference attendees are eligible to submit up to 2 pieces of quality work.
The work will be sold for a flat $20 each on Saturday afternoon and throughout the evening.
All exhibit participants will have first choice for purchasing the work during a designated time. Other attendees will have an opportunity to purchase the work after that time.
As with previous Member's Exhibits there will be prizes awarded for excellence. The expectation is that the work submitted to this special exhibit will be equal in quality to the work exhibited at previous conferences.
Contributions will be tax deductible as the proceeds will go to the scholarship fund. Receipts will be available.
All unsold work will be returned to the artist/member and must be picked up after the exhibit is over.
Members not attending should contact their regions for information on how they can participate.
Student Art Exhibit
This exhibit is free, but it is necessary to preregister to reserve a space. All preregistration will take place ONLINE ONLY through the NYSATA website. Preregistration for this exhibit is by individual teacher, not by school or district. Participating teachers must be NYSATA members.
Presentation of Awards and Honors
Friday Dinner: Special Citation Award-Business, Student Scholarship Winners
Saturday Dinner: Outstanding Service Award(s), NYS Art Educator of the Year
Sunday Brunch: Regional Art Educator of the Year Awards
Go to Awards and Honors Page to see Award Winners 
Go to Student Scholarships Page to see Scholarship Winners
Artisans Market
NYSATA members can take advantage of this unique opportunity to show and sell your art and crafts at the Artisans Market from 8:30-10:30 PM on Friday, November 16 (During the After Dark Art Party). Reserve your table now, space is limited. Table space fee is $25. Artisans are responsible for set up, collecting all sales money and taxes, an dismantling tables.
Region Basket Raffle
Help support the Student Scholarship Fund. Each year Regions donate gift baskets to be raffled off during the conference. Attendees can purchase tickets at the conference for ta chance to win one of these wonderful baskets. Proceeds from this raffle go to the NYSATA Scholarship fund.
NYSATA thanks Blick
our 2018 Platinum Conference Sponsor