Links
Important Dates
Student Art Show Pickup
April 3rd - 4:00-6:00pm at
Roberts Wesleyan College
ELA in the Fine Arts Workshop
April 29th - 9:30am-12:00pm
Nazareth College Arts Center 
Registration form to come!
Region 1 & 2 Social at Albright-Knox
May 20th - 9:00am - 5:00pm
End of School Year Picnic
June 10th - 2:00pm
Resources
Welcome to the NYSATA Region 2 Page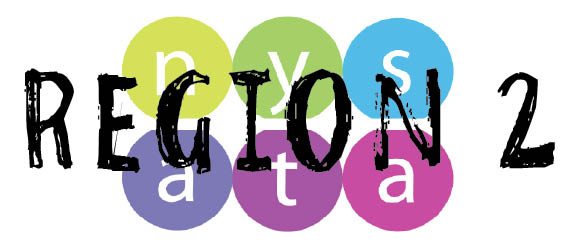 Region 2 Area: Finger Lakes
Counties of Allegany, Livingston, Monroe, Ontario, Wayne, Seneca, Steuben, and Yates
Region 2 Leadership

Co-Chairs:
Alyssa Lindstrom and Tess Hanna: region2cochairs@gmail.com
Secretary:  Amanda Bucholtz 
Treasurer:  Melissa Phillips
Board of Trustees Representatives:  Alyssa Lindstrom, Janice Wiggins
Board of Trustees Alternate Representatives:  Tess Hanna, Patricia Groves
Region 2 News and Events
NYSATA Region 2 Student Art Show
Opening Reception
Friday, March 24th 6:00-8:00pm
Registration deadline - Saturday 3/10 on NYSATA Web page. (the link for registration will be up early next week)
Drop off artwork - Saturday 3/18, 11:00 am-1:00 pm and Monday 3/20, 4:00-6:00pm at Davison Gallery, 2301 Buffalo Rd. Rochester, N.Y. 14626:
Set up: Thursday, 3/23, 4:00-7:30 p.m. (If you can help set up please join us)
Opening reception: Friday, 3/24, 6:00-8:00 p.m
Show dates: Friday, 3/24-Sunday 4/2, Gallery hours: Sat. 11:00 - 2:00 pm, Sunday 12:00 noon-3:00 pm, M-F 11 a.m.-5 p.m. or by appointment
The exhibit will be held at the lovely Davison Gallery on the Roberts Wesleyan College Campus.
At the exhibit's opening reception, students will be honored and there will be refreshments to enjoy. All participants receive an official NYSATA certificate and ribbon for their participation. The work will be on display for 2 weeks giving everyone multiple opportunities to view the pieces.
Art Teachers/NYSATA members in grades K-12 may each submit up to three pieces of student artwork.
Work can be two- or three-dimensional
All 2-D artwork must be securely mounted or matted on mat board, tag board, or a similar weight material. Please don't mount on paper.
NYSATA will not shrink wrap art work, so if you are worried about smudging please cover properly with plastic or shrink wrap.
Teachers need to register on the link provided on the Region 2 page of the nysata.org website. After you register, labels for the artwork will be emailed to you. Please affix to the artwork accordingly.
If you deliver your students work in a portfolio, box, or container, please label clearly with your name and school district.