Links
Important Dates
General Meetings (all 4:45-6 pm)
Monday, February 11 at Autumn Lane Elementary, Greece CSD
Thursday, April 11 at Roth Jr. HS, Rush-Henrietta CSD
Tuesday, June 11 at South Side (location TBD. If you teach in this area let us know if you would be willing to host.)
Upcoming Events:
Encaustics Workshop with Kathryn Bevier
Saturday, January 26, 9 am-12 pm or
Tuesday, January 29, 5-8 pm
Registration click here
Portfolio Project - DATE CHANGE!!
May 3rd at Nazareth College
Region 2 Student Art Show
May 17-June 2 at Roberts Wesleyan College
Resources
Young Student Enrichment Application 
Meeting Minutes 
Google Folder - Click to see minutes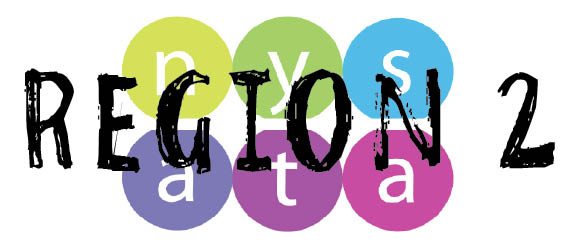 Region 2 Area: Finger Lakes
Counties of Allegany, Livingston, Monroe, Ontario, Wayne, Seneca, Steuben, and Yates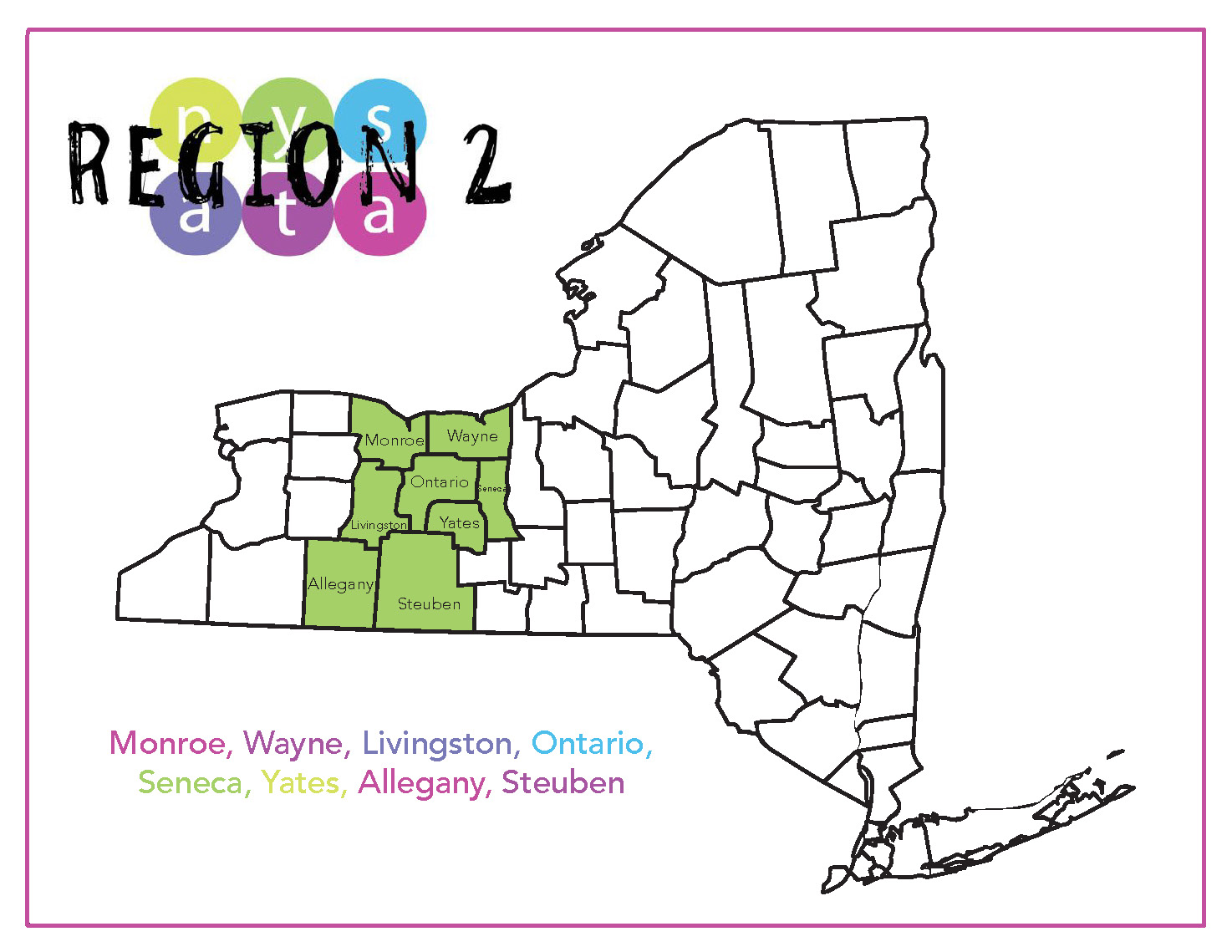 Region 2 Leadership
Co-Chairs: Alyssa Lindstrom and Tess Meka
Secretary:  Debra Rogala
Treasurer:  Amanda Donovan
Board of Trustees Representatives:  Alyssa Lindstrom, Janice Wiggins
Board of Trustees Alternate Representatives:  Tess Meka, Amanda Measer
Region 2 News and Events

Congratulations for our 2018 NYSATA Award Winners
NYSATA Outstanding Service at the Time of Retirement
Colleen L'Hommedieu: Region 2
Colleen received her M.A. in art education from Nazareth College. She began her teaching career at her alma mater – Churchville-Chili School District – in 1979 and has continued to invest in the success of her students for 39 years. Colleen has served as department liaison and has been involved in many special projects and program initiatives over the years. Under her leadership, the high school program expanded to 14 electives including Portfolio Preparation, AP Studio, and three levels of digital art classes. As an active NYSATA member for decades, Colleen received the Art Educator of the Year Award for Region 2 in 2002 and has been a part of the conference registration team for the last 20 years. Colleen has remained passionate about teaching, her students, and her program. 
NYSATA Special Citation University Award
Roberts Wesleyan College
Located in Rochester, Roberts Wesleyan College is a Christian-centered liberal arts college offering liberal arts and professional programs. The college celebrated 150 years in 2016 (1866-2016). It is the first educational institution established for Free Methodists in North America. Roberts Wesleyan College and their Art Department are being honored with the NYSATA Special Citation University Award for generously donating their exquisite Davison Gallery for Region 2 student art exhibitions for the past several years. The entire staff from building and grounds, security, and gallery management is always professional, friendly, and extremely accommodating. The gallery is modern with large windows, hardwood floors and professional lighting. The gallery setting offers Region 2 art students and families a truly professional looking exhibition. Roberts continues to show outstanding commitment for supporting arts education though this generous donation of space and support.
Region Art Educators of the Year
Region 2: Susan Lane
Dr. Susan Lane has wanted to be an art teacher since she was in kindergarten. After being the first person to graduate from SUNY Oneonta's 3-1 Art Education program, she began her 30-year career at Whitney Point Middle School. After earning an M.S. in education from Elmira College, she continued her career teaching PK-12 art at Indian River Central School District and Clyde-Savannah Central School District (CSCSD). With her passion for art and technology, Susan developed and taught a media arts program that included: computer art, graphic design, film, 3-D rendering, animation, and game design. She also taught online digital photography, AP art history courses, and integrated STEAM into the CSCSD's elementary program. She hosted student teachers, served as a Common Core coach, new teacher mentor, mentor coordinator, and Fine Arts Department chairperson. After earning her Ed. D. in teacher leadership from Walden University, she became more involved with district and state initiatives. She is the NYSATA Advocacy chairperson, a NYS Content Advisory Panel member for the Arts, and a NYS Arts Standards writer and trainer.